Dive into the vibrant tapestry of my life. From the logical corridors of software engineering to the rhythmic pulse of dance floors, from martial arts mats to meditative stillness, this journey unravels the multifaceted existence of an individual ever on the quest for self-discovery and purpose. Welcome to a narrative that blurs the lines between discipline, art, and personal evolution.
1. From Code to Choreography
It's probably an unexpected start, but my first professional steps echoed with the clicks of keyboards rather than dance shoes. Taking after my father, I ventured into the engineering world and proudly wore the title of software engineer. Even as I transitioned away from this high-paying field to chase a deeper sense of fulfilment, the logical lens I developed during my programming days remains deeply ingrained. Now, I perceive the world through a unique fusion of artistry and structured logic, seeing patterns, algorithms, and sequences not just in code but in the ebb and flow of life itself.
For those who are interested, here is the nitty-gritty of my engineering career: I learned programming and logic at HTBLA Salzburg and worked in this field for four and a half years. My primary programming languages were C++, Java and a little bit of C#. I wrote applications for logistics and time management at a company called MECS. I am also decent with PHP, Javascript, HTML and CSS. But, I won't go back into software development.
2. Martial Arts – FraGue's Dojo of Discipline and Determination
My introduction to discipline began on the mats of Judo, in my teen years. What started as a youthful hobby evolved into a competitive pursuit, with a few national-level youth accolades to my name. But as the competitive heat rose, the essence of the art started waning. Yet, the discipline and physicality rooted themselves deep within. Later, decades on, I felt the familiar pull of martial arts and stepped back into the realm with a fresh perspective. I first came across Kickboxing and later Tai Chi Chuan, Wing Tsun and Eskrima, but sadly time constraints shorted those journeys. Immersing myself in ancient Kung Fu traditions, I now learn at the International Lau Family Hung Kuen Kung Fu Academy in Salzburg.
3. Beat by Beat: FraGue's Dance Evolution
The rhythm first found me in 1999 at Tanzschule Seifert in Salzburg. Ballroom dancing was my first love, and I even tried my hand at some competitions. But the real transformation came when I chanced upon a breaking class. The allure of acrobatic moves and street style was irresistible. Before I knew it, the ballroom took a backseat. An injury once paused my dance journey, pushing me towards hip-hop, house, and krumping. This diversified my dance palette, later leading me to theatre productions with dance troupes like Nobulus and Hungry Sharks. Alongside, my wife and I spun stories of motion with our own company, Artfeeders.
4. From Passion to Profession: The Rookies at Work Story
2014 was a hallmark year. Alongside Mike Tike and Cosmic, I breathed life into Rookies at Work GmbH, a venture born from our shared passion for breaking. Our flagship event, Circle Industry, soon became a hallmark for international breaking battles in Salzburg. Being the agency doing the Red Bull BC One Cyphers in Austria and later Red Bull Dance Your Style Austria added more feathers to our cap. With time, our repertoire expanded to encompass social media and advertising. But there came a time when I had to step back, prioritize my art, and recalibrate. Today, I've rejoined the ranks, albeit in a different capacity – speaking as a regular employee instead of a shareholder, ensuring I'm grounded at home for my young daughter and wife. More about this part of the journey will follow later.
5. An Affair with Fantasy – RPGs and LARPs
Way before beats took over, role-playing games (RPGs) dominated my leisure hours. DSA, Shadowrun, and Vampire: The Masquerade were my gateways to otherworldly realms. LARPs, akin to improv theatre without an audience, followed suit. Organizing a few LARPs, I unearthed a penchant for orchestrating narratives, a passion that probably sowed the seeds for my theatre and film projects later.
6. Twirling Torches: Merging Martial Arts with Mesmerizing Moves
Swirling weapons have a meditative charm, blending the finesse of dance with martial prowess. This synergy of my twin passions – dance and martial arts – feels like home. And what's more exhilarating than setting the props aflame? My go-tos for a fiery spectacle are the Nunchucks and the staff, but when not burning, I sometimes indulge in fluid routines with short sticks and knives. Some day I will also learn the rope dart or meteor hammer.
7. Artfeeders – The Quest for Artistic Sustainability
Alongside my better half, I embarked on a mission: founding an association dedicated to the cause of freelance artists. We're committed to uncovering and imparting methods that enable artists to sustainably monetize their talents without succumbing to burnout.
The association carries on the name Artfeeders, which was originally the project name of our productions. Given that the name perfectly suits the association's topic, we decided to stick with it.
8. Life's Most Rewarding Challenge
Two roles define me profoundly – being a husband and a father. Navigating these roles, ensuring I'm present, supportive, and nurturing, all while staying true to my essence, is both the most challenging and rewarding endeavor of my life.
Part of this challenge is also staying on top of potentially harmful developments in our society and ensuring I am ready to deal with them if the need to protect the family arises.
9. From Footwork to Footnotes: FraGue's shift into writing
While dance always involved the rhythmic movement of my body, I discovered another rhythm that beckoned me: the rhythm of words. When the beats of fatherhood started playing, the need to be around my daughter took center stage. The tours, the travel, the on-the-road lifestyle weren't conducive to the nurturing environment I wanted to provide. And thus, pivoting from the stage's spotlight to the soft glow of my laptop, I began to craft sentences and paragraphs instead of steps and choreographies.
I published Dance Smart and, together with Da Bürgermasta, Performance Skills. These are not only manuals or guides but a glimpse into my view of the art that defined me. Already stepping into this field, the opportunity to join the editorial team of one of the biggest brands in dance came up, and I took the leap of faith into yet uncharted territory. Somehow it worked.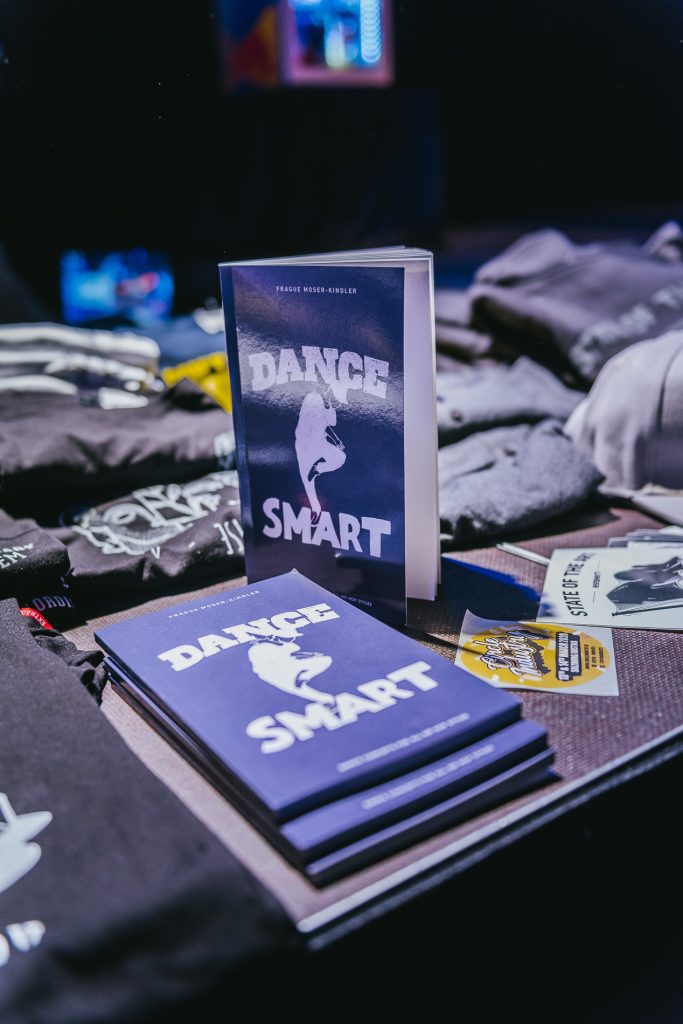 I realized that stories, like dance routines, can inspire, educate, and evoke emotions. While the pivot was initially due to the circumstances, it made me appreciate the beauty of expressing through words. My daughter's giggles while hearing some of my hilarious rhymes or her joyous dances that never follow the guidance I offer reassured me – sometimes, life's unforeseen pivots lead to the most harmonious tunes.
Speaking about tunes, there's another one incoming.
10. Sonic Sketches: Drawing Tunes from a Dancer's Heart
Let's set the record straight – I'm no Mozart. But the allure of music is too potent to resist. The Cajon resonates with my rhythms, and my attempts with the guitar and Ableton Live bring joy. Under the moniker Moskin Tribe, I've embarked on a musical voyage. While I did not release much, there are some pieces you can listen to below.
And sometimes, I play the supporting act, mixing and mastering the superior musical compositions of my wife.
11. Raw Realities: FraGue is chasing the Unadulterated Truth
Remember 'The Matrix'? I've always been a Red Pill kind of person. There's an insatiable hunger in me to discern the truth, to confront unsettling realities over comforting delusions. This journey of discovery means I've often revisited and reshaped my beliefs. When I stand by an opinion, know that it's been meticulously thought out. Rich, informed conversations invigorate me, while superficial chatter drains.
12. Inner Echelons: Navigating Meditation and the Mysteries of Qi Gong
The frenetic pace of parenthood made me cherish the serenity of meditation, taming my restless mind – a prerequisite to functioning and staying on top of my responsibilities. My spiritual quest and search for more ways to stay in shape recently introduced me to Qi Gong. As I look forward to completing my teacher's training in 2024, I'm eager to delve deeper into this enriching practice.
This is it. A snapshot of the mosaic that is my life. From code to choreography, from Judo mats to theatre stages, my journey has been eclectic, rewarding, and is perpetually evolving. If you know me, thanks for being part of it. If we don't know each other, thanks for reading that far.